Welcome to Brentwood UMC
We invite you to join us in what is truly an exciting time in the life of our congregation. We are dedicated to making your visit to BUMC be one where you see that you are special in this community of faith. When you are here, please visit our Connection Point Desk for more information about our church and so we can assist you as you visit. Also plan to visit the Launching Point class - your first connection point for anyone new to our congregation.
Where can I get connected?
---

Second Sundays, 9:45 & 11:00 a.m.
(next meeting - August 12)
Get a snapshot of who we are and what we value here at BUMC, plus learn the next step in becoming more connected to the congregational life of the church. Perfect for recent visitors or for those who are considering church membership. Launching Point meets on the second Sunday of each month at 9:45 and again at 11:00 in the Parlor just below the Narthex on the first floor. Contact Shelby Slowey if you need further information at
What do you have for my family?
---
Ways to Worship
---
Saturday Evening weekly worship
6:00 pm In the Chapel (campus map)
Like breaking bread with family and friends, this service offers an intimate, casual approach to traditional worship, along with occasional use of newer forms of praise to our Creator. This service is especially helpful for those who work on Sundays, or who cannot attend Sunday worship for other reasons, or who prefer a small church setting.
---
Sunday morning weekly worship

In our Sanctuary (campus map)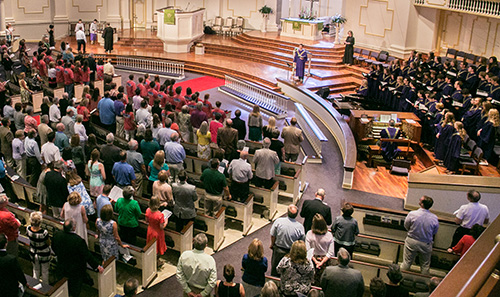 At 8:15 am - Traditional worship with a vibrancy all its own. Anchored by our dynamic youth choirs, the service bridges the generations with a touch of media, drama, and dance, bringing new life to familiar forms. Piano and pipe organ are featured as the primary instruments, and the congregation worships musically with hymns and occasional praise choruses. Sign language service available.

The 9:45 am - Awakening - Contemporary worship in the Sanctuary with a worship band. Come as you are for a new encounter with God! Awakening worship brings together ageless traditions with contemporary music and artistic forms in an eclectic blend of old and new. Our energetic worship band and multi-media walk hand in hand creating unique ways to connect with God. Sign language service available.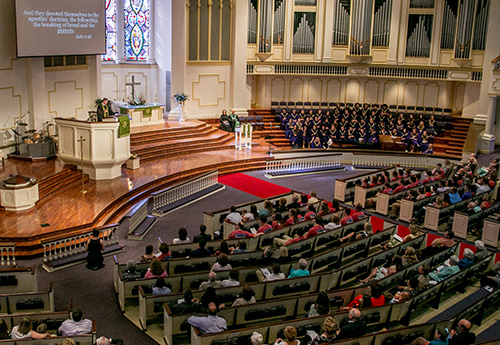 Our 11:05 am - Traditional worship in the Sanctuary with the adult chancel choir. Cherished liturgy and hymns embraced with familiar ceremony create an experience of timeless worship accentuated by the power and beauty of piano, pipe organ, and Chancel Choir, with meaningful use of liturgical arts, psalms, hymns and spiritual songs.
Location:
---
Our address is 309 Franklin Road in Brentwood, TN. We are just south of Old Hickory Blvd. (I-65 exit 74B) Click for directions. Click for a facility map
Where to Park:

---
Designated guest parking is available via the main entrance on the south side of our building (see map). We also have a shuttle service available on Sunday mornings in the parking lot just north of CVS and directly across from Chipotle. Shuttle buses run continuously from 7:45am to 12:45pm each Sunday from the Shuttle Parking Lot to the church. Special Needs parking assistance available at the covered entrance by the large hands statue.
Additional parking is available on Sundays and weeknights only at the Brentwood Medical Center, U.S. Bank Branch, and Regions Bank. To honor our agreement with Regions bank, please do not block the ATM drive. We have many surrounding businesses who are open during our hours of operation; please help us practice being good neighbors by not parking in their lots (Jason's Deli, Brentwood Hill Center, Starbucks, Chipotle, etc.)
Who do I call with questions?
---
Click to view the staff directory or feel free to call our offices at 615.373.3663.
Still have questions?
---