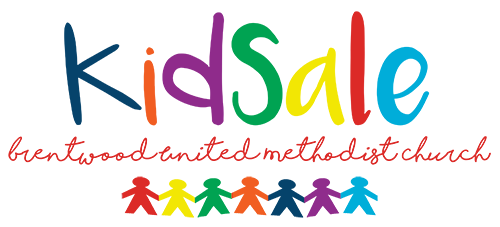 The BUMC KidSale volunteer staff organizes in the Spring and Fall, a consignment sale of quality children's clothing, toys, furniture and accessories for the benefit of mission programs at Brentwood United Methodist Church, Harvest Hands, Room in the Inn, Thembelihle School in South Africa, and the community-at-large. After each sale, the KidSale is humbly able to distribute between $20,000 and $25,000 to the above ministries as well as to other smaller ministries in need of financial support.
Spring/ Summer Sale Dates:
Feb. 28th-March 4th, 2017 (see below for details)
Drop Off Dates for Consignors:
Tuesday, Feb. 28th: 10am - 6pm (Room A291 & A292)
Wednesday, March 1st: 10am - 3pm (Room A291 & A292)
PRE-SALE: (Pass Required):
Thursday, March 2nd: 5pm - 8pm (for volunteers only)*
Thursday, March 2nd: 6pm - 8pm (for consignors and/or volunteers)
*Please note that if you consign, but do not volunteer, you will shop an hour later than our volunteers.
PUBLIC SALE DATES:
Friday, March 3rd: 10am - 5pm
Saturday, March 4th: 8:30-12:00 (HALF PRICE DAY)
Consignor Pickup:
Saturday, March 4th 1:00-2:30 (Pick up ends at 2:30 pm SHARP. All unclaimed items will be donated.)
You can sign up to volunteer www.bumckidsale.net. For more information about the BUMC KidSale, please email .