Weekly Worship Services
As a Christian community, worship is central to our lives. Through worship we glorify God, touch lives, and find inspiration to be the hands of Christ in our world. BUMC's various worship services are designed so that every person, no matter what their church background, can connect with the God that loves them and calls them to a deeper relationship with Him.

---
Saturday Service
6:00 pm Casual worship in the Chapel
Like breaking bread with family and friends, Saturday service offers an intimate, casual approach to traditional worship, along with occasional use of newer forms of praise to our Creator. This service is especially helpful for those who work on Sundays, or who cannot attend Sunday worship for other reasons, or who prefer a small church setting.
---
Sunday Services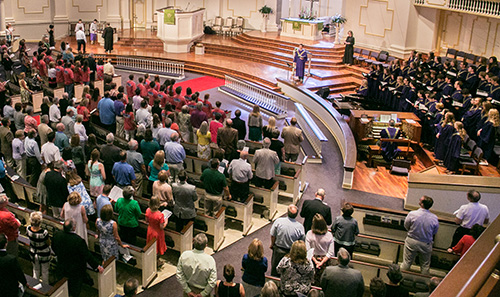 8:15 am Traditional/blended worship in the Sanctuary with youth choirs - Traditional worship with a vibrancy all its own. Anchored by our dynamic youth choirs, the service bridges the generations with a touch of media, drama, and dance, bringing new life to familiar forms. Piano and pipe organ are featured as the primary instruments, and the congregation worships musically with hymns and occasional praise choruses. Sign language service available.

9:45 am Awakening - Contemporary worship in the Sanctuary with a worship band - Come as you are for a new encounter with God! Awakening worship brings together ageless traditions with contemporary music and artistic forms in an eclectic blend of old and new. Our energetic worship band and multi-media walk hand in hand creating unique ways to connect with God. Sign language service available.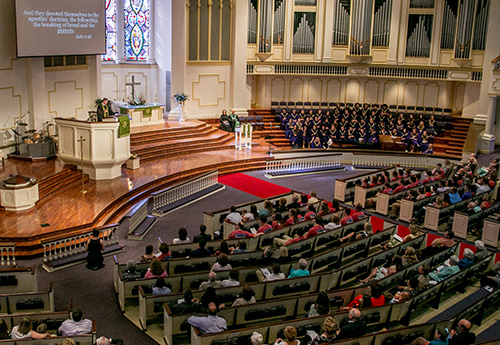 11:05 am Traditional worship in the Sanctuary with the adult chancel choir - Cherished liturgy and hymns embraced with familiar ceremony create an experience of timeless worship accentuated by the power and beauty of piano, pipe organ, and Chancel Choir, with meaningful use of liturgical arts, psalms, hymns and spiritual songs.
---
Nursery
A nursery is available for 3 year olds and under at all services. However, church time is only available at 8:15 and 11:05, and it is only 4 year olds / Pre-K.