"Your word is a lamp for my feet, a light on my path."
Psalms 119:105
Connecting With God's Word
At ages 8-9, children are developing the independence and reading/study skills that they need in order to begin to explore God's word on their very own. We present children with a new Bible at this age in the hopes that they will not only learn how to read Scripture, but they will be able to use their knowledge of the Bible in order to deepen their faith and relationship with God.
Presenting Bibles to 3rd Graders is a long standing tradition in the United Methodist Church. When we present them with this Bible in worship, it is a continuation of the lifelong faith journey that began at their baptism. We encourage children to bring their Bible to Sunday School so that they can dive into God's Word on their own, both during class and at home.
Another part of the 3rd Grade Bible presentation is our Bible Blast class. This is a 3 week long class that will teach children what exactly is in their Bible, how to use their Bible, and how to apply all of this knowledge to live as a disciple of Jesus. This year, we will be encouraging 3rd Graders to attend both the presentation/family lunch, as well as the 3-week bible class.
Deep Blue Bible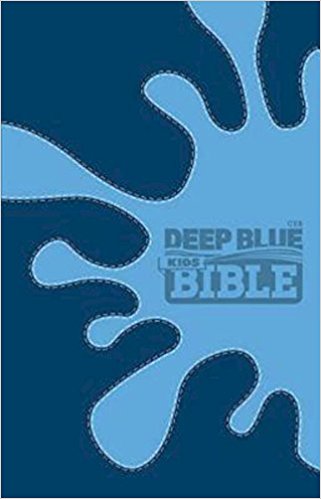 Our 3rd Graders enjoy receiving the Deep Blue Kids Bible, which corresponds to the curriculum used in our Sunday School classes. This kid's bible is full of resources and appendices to help children navigate Scripture and apply it to their lives.
Details for this Milestone Event

3rd Graders will be presented with their Bible in all 3 worship services on Sunday October 29th, and are invited to the family celebration lunch at 12:15 immediately following worship. All family members are invited to attend. As a part of this milestone this year, we are also offering ( and strongly encouraging) 3rd graders to attend the 3 week bible class on November 5, 12, and 19 from 11 AM to 1 PM (lunch will be provided for the kids) where children can learn to explore and use their Bible on their own and connect with Scripture in new and fun ways. The elements of Bible Blast (which has been a single day in the past) will be spread out among the 3 classes. You won't want to miss it!
Here are the Details:
3rd Grade Bible Presentation (in Worship) & Family Lunch (catered by Moe's)- October 29th (Cost $20)
Bible Blast Class- 1st 3 Sunday's in November, 11 AM to 1 PM- Lunch provided, Room C-304 (Cost $10 extra)

November 5- What's In My Bible? (lunch- pizza, chips, fruit)
November 12- How Do I Use My Bible? (lunch- TBD)
November 19- Why Is My Bible Important? (lunch- TBD)