Volunteer Opportunities in Children's Ministry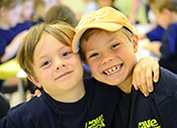 Children's Ministry would not happen without the help of wonderful adult and youth volunteers. When you volunteer with the Children's Ministry, you not only are helping out, but making a significant impact in a child's faith journey.
If you would like to get involved with the Children's Ministry, please consider helping out in one of the areas below. If you have questions about how we can help fit your gifts into serving in our ministry, please contact a member of the Children's Ministry Staff.
Current Opportunities to Serve
Sunday School Leaders for 4 year olds through Kindergarten (email Gwen at )
Sunday School Leaders for 1st - 5th grades (email Megan at )
Children's Connection Desk/Sunday Morning Greeter (email
Children's Ministry Volunteer Guidelines/Requirements
Must be trained in Safe Sanctuary* and undergo a background check
Have attended (membership not required) BUMC for 6 months or more
A love of kids and a heart to serve!
*Our Safe Sanctuary policies indicate that all leaders with children, youth or vulnerable adults must be 18 years of age, always lead in teams of 2 or more, and have a current background check on file at BUMC. We welcome youth volunteers under the age of 18 and will place them with approved adult volunteers or staff. If you have any questions about our Safe Sanctuary policy and how it affects children, volunteers, or parents, please contact Ellen Garrett at .