Trinity Mission and Outreach

For any questions contact:
Elizabeth Baldwin,
Director of Missions and Outreach

---

Open Table is a non-profit, interfaith community that disrupts cycles of poverty, journeys with the marginalized and provides education about issues of homelessness. Trinity Church partners with Open Table Nashville to provide meals and necessities to the homeless community at their resource shelter several times throughout the year. We are currently collecting items for the spring/summer outreach needs.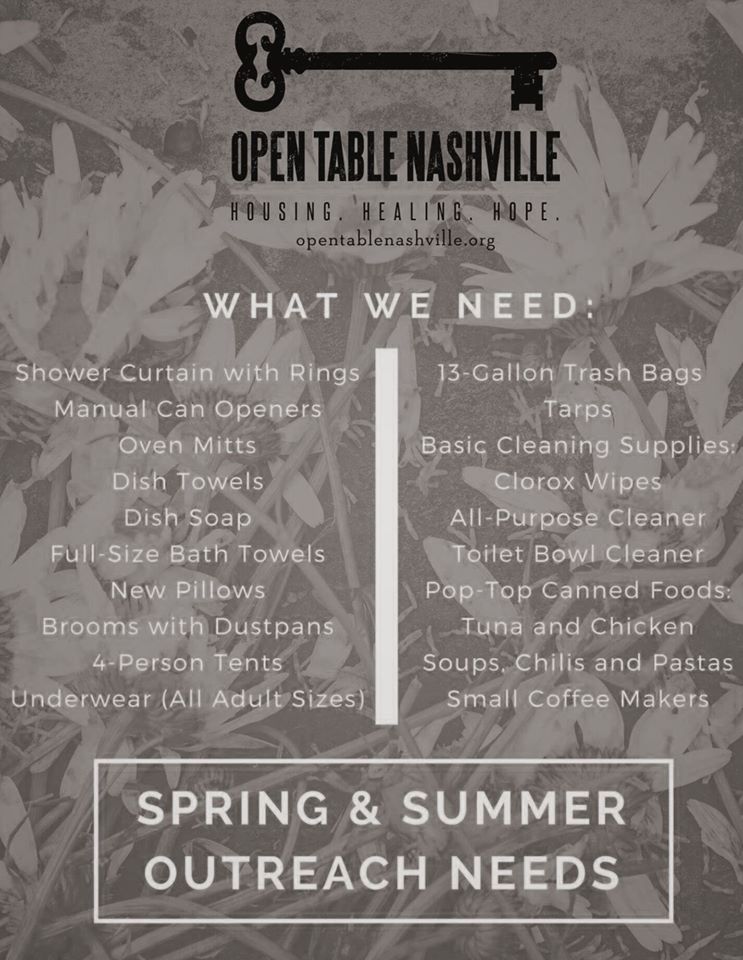 ---
The JetPack Project is a backpack program providing nutritious, non-perishable food for the weekend to eligible children of food-deficient households. To be eligible, a child must be on his/her school's free or reduced lunch program.
In our local schools, over 2000 children benefit from the free or reduced breakfast and lunch program every weekday. But when the weekend comes, these children often go home to food-insufficient households where families struggle to meet their nutritional needs. The Well's JetPack Project is one way to assist these children and their families by providing nutritious, non-perishable meals and snacks for children to eat over the weekend. The Well Outreach partners with local churches to serve all of the public schools in the Spring Hill/ Thompson's Station/Northern Columbia area. Each church funds their school's JetPacks as well as packing and delivering the JetPacks to the school for placement in each child's backpack.
Trinity Church is proud to be providing JetPacks to students at Spring Hill High School for the 5th year. The cost per child for one month of JetPacks is $20. Each month please ensure all checks and offering envelopes have JetPack written on them. Thank you so much for helping feed hungry children in our area!
For more information contact Alison Worden at .
​