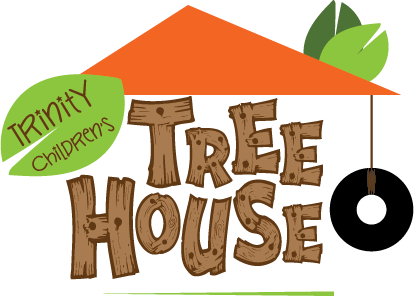 At Trinity, children are important to us. We want them to learn how to Follow Jesus Together and to grow in knowledge and understanding of God's Word.
Our staff and volunteers seek to provide a safe, fun, age-appropriate environment. This allows children of all ages to grow in their relationship with our Lord and Savior, Jesus Christ.
Every volunteer undergoes a background check.

Trinity Kids: Nest- Nursery
The nursery is for newborns through 2 year olds. Our nursery worker, along with volunteers care for your children in a loving and safe environment. Please provide a diaper bag with appropriate supplies your child needs during his/her stay in the Nursery.
Trinity Kids: Little Sprout and Sprout: Preschool age
Little Sprout is for 3 year olds and Sprout for 4 year old through Kindergarten. Ms. Katie teaches the children a short, age appropriate lesson in large group and then kids spilt into small groups for learning activities at both 9:00 and 10:30 services.
Treehouse Experience
The Trinity Tree House Experience is for our school age children. The Tree House Experience is for 1st through 5th grade at the 9:00 service and 1st- 3rd at the 10:30 service in Suite 1. The children meet in a large group for music and worship. They then separate into smaller groups by grade for activities that support the lesson.
During the 10:30 service The Giving Tree 4th and 5th grade class meets in Suite 3 (youth room) for relevant life and bible teachings. The first Sunday of each month this class joins their familes in worship for Communion.
Volunteers
If you are interested in volunteering with our Children's Ministry, please contact Ally Hall at